Homes for Sale in Saguaro Canyon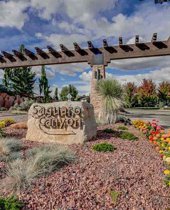 The beautiful city of Meridian located in the state of Idaho is the gorgeous Saguaro Canyon community. The community started its construction in 2007 and it's still being worked on. All of the homes sit on one-fifth of an acre lots. The sizes of the homes range widely. Some homes are less than 2,000 square feet in space and some are more than 4,000 square feet of space. The floor plans range from three to five bedrooms with three to five car garages. These homes are absolutely perfect for families. The community is in close range to many top-notch schools.
The community of Saguaro Canyon has gorgeous landscaping and this is not only limited to the yards of the homes but also the land between them. You will be amazed once you see the entrance to the community and even the medians showcase the gorgeous landscaping that's carefully tended to all year long. You will find many parks amongst the homes and some of the parks are just open grass areas with trees but others are complete with walking paths, playgrounds, and ponds. It also has a community swimming pool that is located in the center of the community.
Saguaro Canyon isn't located too far from the Boise River, Eagle Island State Park, and the Greenbelt. All of these areas offer swimming, hiking, biking, fishing, and four-wheeling and so much more. Because of its convenient location, the city of Boise is only a short drive away from the community. The schools that children attend are Prospect Elementary, Heritage Middle, and Rocky Mountain High School, which are all wonderful schools. If you are interested in purchasing a home in Saguaro Canyon, feel free to contact us today for more information.
No current listings, please check back later.